Stoked awarded 2022 top UX agency in Denmark by Clutch
By Stoked Staff
We're incredibly proud to announce that we've been named one of the top UX agencies in Denmark by the leading online review platform, Clutch. 
We have always said that our team has the talent to innovate any kind of solution that our client needs. This experience has allowed us to elevate several clients towards their potential.
Thanks to our client's lovely reviews and Clutch, we now have tangible proof of the quality that we provide.
What is Clutch.co? 
Clutch is an online B2B ratings and reviews platform, supplying the B2B industry with vital fact-finding research. They achieve this through a unique verification system that allows their team to determine the legitimacy of the information sent to them for publication.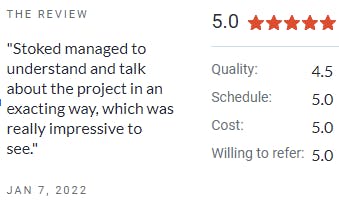 Companies named as industry leaders are the ones that earned several high-scoring reviews from their clients. This is an effective system from our point of view because our clients are in the best position to judge the quality of our work impartially. 
For this reason, we want to express our sincere thanks to everyone that made this award possible for our team. We truly appreciate the time and effort spent writing down their thoughts regarding our work and sharing them with the world.
"I'm truly proud of my team and the value we were able to consistently deliver to clients. It's great that we get recognised by an independent and reliable source like Clutch." - Hans Lambert Pedersen, Founder of Stoked.
You can read our reviews by visiting our Clutch profile. Alternatively, to see how we're impacting businesses in Denmark and the rest of the world, take a look at our work.